Help Prevent Falls & Wandering
Here at Smart Caregiver we strive to be the #1 supplier in Quiet Fall Prevention & Anti-Wandering products. Our world class customer service representatives are here to answer any questions you might have, and help set you up with the highest quality Fall Prevention and Anti-Wandering products to fit your customer's needs.
Our Fall Prevention Exit Alarms are easy to use: Connect the weight sensing bed pad, chair pad, or floor mat to a fall prevention monitor. Then place weight-sensing pressure pad on a bed or chair, under a resident at risk of falling or wandering. Weight sensing floor mats are placed by the bed or door. When a resident attempts to get up, pressure is removed from the bed or chair pad or applied to a floor mat, which notifies a caregiver by an audible alarm, quiet pager, hallway alarm, emergency call light, or a central monitor so they can provide assistance when needed.
---
 

Need a Quiet Fall Prevention Solution?

Quiet Fall Prevention Monitors without Cords
Alarm noise is a concern in many nursing homes, hospitals and memory care facilities. We have quiet fall prevention solutions. To eliminate noise and reduce tripping hazards, We recommend using our Quiet, CordLess Fall Monitor and CordLess pressure pads or mats.
If you want a system that is silent in the room and sends a signal to a caregiver pager, hallway alarm or a central monitor, try our wireless fall monitor. The Smart Caregiver TL-2016 Fall Prevention Exit Alarm Monitor allows more caregiver freedom than other fall prevention monitors by sending a signal to a caregiver pager when resident needs assistance.
---
Anti-Wandering Door Bars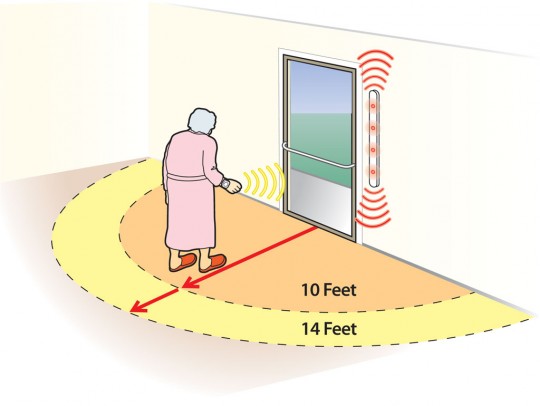 Affordable – No Wiring – No Electricians 
No Installation Costs – No Maintenance Fees
Installs in three easy steps:
1) Mount door bar alarm and plug in
2) Activate wristband transmitter and test
3) Put wristband on resident
For a facility of any size! This "All in One" Anti-Wandering Door Monitor System functions with just a door alarm and a resident wristband. System can be configured with Wireless Central Monitor. When a resident wearing a wristband approaches a door being monitored by a door system, the system will alarm both audibly and visually letting a caregiver know that assistance is needed.
---
 

Caregiver Pagers
Caregiver Pagers
Smart Caregiver Paging Systems are perfect for large or small caregiver facilities and for home care-giving. The caregiver pagers have an audible alarm and are small enough to be carried in a pocket or clipped to a belt.
Available Systems:
TL-5102TP – Caregiver Pager with Two Call Button for Seniors.
TL-5102MP – Caregiver Pager with Motion Sensor Alarm for Seniors.
TL-2016 – Wireless Fall Monitor with Caregiver Pager.
433-CMU – Low-Cost Wireless Central Monitor with Pager.
---
Motion Sensing Exit Alarms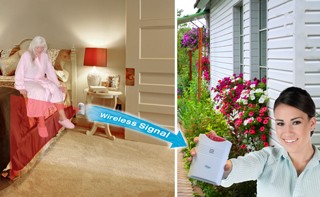 Anti-Wandering & Fall Prevention Motion Sensors
Be notified as resident attempts to get out of bed, up from a chair or leaves a room. These anti-wandering & fall prevention motion sensor systems notify a caregiver when the passive infrared field is interrupted. When positioned along the bedside, the sensor will alarm as the resident attempts to exit the bed. When positioned by a doorway, the fall monitor will alarm as the resident approaches the door. They are several options to choose from, including systems that notify the caregiver by pager.