Basic Fall Prevention Monitor – BPM-01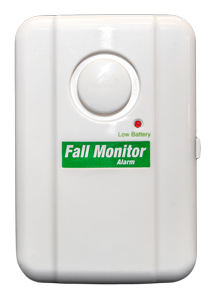 The Smart Caregiver BPM-01 Basic Fall Prevention Monitor along with bed / chair pressure sensor pads alert caregivers of resident's activity. As long as pressure remains on the sensor pad, the alarm is silenced, when pressure is removed, the alarm is triggered and the caregiver is notified. The BPM-01 Fall Prevention Monitor works directly with specifically designed bed / chair pressure sensor pads (see the Required Component Options link above for ordering information).
The BPM-01 Basic Bed Alarm Monitor features: auto-reset, adjustable volume, low battery indicator, nurse call port and alarm delay. Ideal for monitoring residents while in bed or a chair.
Basic Fall Prevention Monitor
Equipped with auto-reset button – Auto reset when pressure is re-applied to sensor pad
Adjustable volume control
Low-battery indicator – will flash to alert caregiver that the battery is getting low in the monitor
Nurse call capability – a nurse call adapter allows for use with a hardwired nurse call system, alerting caregivers through an existing nurse call
Alarm delay option
6 month warranty



BPB-365 Bed Sensor Pad




BPC-365 Chair Pad
[WPCR_INSERT][WPCR_SHOW POSTID="566″ NUM="3″ SNIPPET="" MORE="" HIDECUSTOM="0″ HIDERESPONSE="0″]