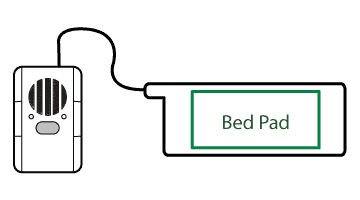 Senior Fall Prevention Monitors
Fall prevention monitors for seniors. Smart Caregiver specializes in fall prevention monitors for bed, chair and anti-wandering alarms for caregivers monitoring residents and/or loved ones.
Our Fall prevention monitors and bed exit alarms are easy-to-use and can be customized with potential institutional growth in mind. Simply program the sensor pads to the bed exit alarm monitors (fall monitors), then set the bed sensor pad on the bed, chair sensor pad on the chair or the pressure sensing floor mat pad on the floor.
When the resident gets up or stands on the pad, it sets off the alarm. Our systems can be used in small and large facilities, as well as the home.  The following Smart Caregiver monitors help to reduce falls and elopement in your home or facility: